May 2015
Musician's Notes
The Exultate Blog, meet Craig Campbell
Greetings from the Bass section!
Hi, I'm Craig! And the choir says, "Hi Craig!" in unison. That's just an example of the fun we have as a community of people with a common interest – singing!
My musical life started at an early age, hearing my Grandma play ragtime on her Chickering upright, those wonderful sounds ringing through the open windows into the South Dakota fields. In my youth, I took piano for several years and continued singing thru high school. As I entered college, my engineering studies at the University of Minnesota were balanced with time singing in the Symphonic Chorus and Men's Chorus. After graduating and starting my engineering career, I was longing for music again and the balance it brings my life. I started singing with the Minnetonka Choral Society for a few years, then joined Exultate in its second season. As they say, the rest is history.
Little did I know that I had crossed the paths of other fabulous musicians, only to reconnect in Exultate. That connection spurs all of us to strive to become better musicians, growing, learning and experiencing music and life as a chorus of people, not just musicians. The joy, energy and enthusiasm rippling through us as we rehearse comes to a resounding climax at concerts. Then all of us share together in this distinctly human activity of making music that moves our souls, and I hope yours, too!
---
April 20
15
Musician's Notes
The Exultate Blog, meet Tom Gleason
Greetings from the Bass section!
Hello! My name is Tom Gleason, and I sing bass with Exultate. My wife and I moved to Minneapolis in 1981. We love this community and all it has to offer, even our lovely winters!
After many years with IBM Corporation, and a few years teaching middle school, I am now retired. My days are spent in a variety of ways: from homemaker to dog trainer (Schultz, our German Shepherd) to yoga. But my true passion is a charity called Friends of Ngong Road, which assists children living in poverty in Nairobi, Kenya. Many are orphans; all have one or both parents struggling with both poverty and HIV/Aids. We provide a quality of schooling, not available without tuition support, so they can compete for top secondary and post-secondary programs offered in Kenya. We provide food support, health care and a youth group program throughout the year. Friends of Ngong Road was founded in 2006, and now supports over 370 children. I thoroughly enjoy running the annual Holiday Camp program in Kenya each August. The experience is educational (leadership training, interactive learning, reproductive health), exploratory (field trips/hikes in the Kenyan parks) and fun ("crazy games"). Over 350 children participated in last year's camp program.
My musical background is strictly amateur; it is a lovely challenge to prepare such that I am a contributor to the quality of Exultate's rehearsals and performances. My choral experience began as a child with church choirs, continuing through my teens. After a hiatus of 32 years with no choral singing, I joined Sonomento, through the MacPhail School of Music, for 9 years. Last May, I attended Exultate's concert of Morten Lauridsen's Lux Aeterna. The quality and loveliness of the performance simply swept me away; I wanted to be part of that. So I auditioned and made it into Exultate for the 2014 – 2015 season.
What I most enjoy about singing with Exultate is the passionate professionalism of the choir, director and orchestra. Everyone is striving to achieve the best performance we can deliver; to realize our mission – music that stirs the soul. It is also very special to be part of a choir with its own orchestra. We rehearse with our orchestra many times before our first performance. This gives us the ability to be in tune with each other and deliver a quality performance not easily found elsewhere.
---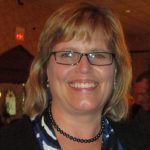 February 2015
Musician's Notes
The Exultate Blog, meet Heidi Sturmfels
Greetings from the Alto section!
Hi! I'm Heidi. I have been with a company called Promotion Select for almost 13 years.  We provide promotional items to law firms, professional sports teams, manufacturers, fitness companies, clothing companies and pharmaceutical companies. My role as an account executive includes selling product and working with graphics.
I have been singing for most of my life. My high school choirs lured me in with great choral directors and a wonderful choral program.  From there I was hooked!  My next step was Valparaiso University, where I majored in Music Education (Voice).  After college, I directed church choirs in Colorado and Minnesota. Since then, I have continued to sing in church, civic and professional choirs, including the Ann Arbor Cantata Singers, Arvada Center Chorale, Broomfield Civic Chorus, the Minnesota Chorale and now, Exultate.
I first heard of Exultate when attending a round table discussion for Valparaiso University that was held in the Twin Cities. This committee selected Exultate to perform at Valparaiso's 150th Anniversary celebration for Minneapolis.  My first opportunity to sing with Exultate was for the 6-week Festival Choir in 2008. I was too afraid to make the commitment to sing for an entire season!  Finally, this year, I decided to take the plunge and join.  It is so wonderful to be part of a quality choir again; I'm enjoying getting my voice back in shape!  The people are very nice, too.  For me, it is a great college reunion every week as I get to spend time with Maria Kjoller (my college roommate) and Linda Deal (college classmate).
---
May 2014
Musician's Notes
The Exultate Blog, meet Joy Roellinger
Greetings from the Soprano section!
Hello, my name is Joy Roellinger.  My job in "real life" is with Allianz Life Insurance Company, where I work in Accounts Payable.  I am also busy being a wife, mom, daughter, sister, aunt and friend, Girl Scout troop leader and Sunday School teacher.  I have 3 children (ages 11, 3 and 2), a dog and a cat.  In my free time I enjoy heading north to Rainy Lake where our family cabin is, biking, walking, spending time outdoors, and spending time with my family (near and far).  This summer I look forward to lots of play time with the kids!
I am forever grateful for the foundation in music I was given as a child.  I started singing in our children's choir at church and continued through college.  In middle school, I started playing flute and joined the choir. After joining the Chamber singers, too, I can remember my teachers giving me a hard time being in both band and choir, stating I really should choose one or the other so I could have an open period for study hall or typing class. I never listened to them and kept my schedule as full of music as possible. I believe my homeroom teacher (who was also the typing instructor) had a chat with my parents at that time and strongly advised that I drop one of my ensembles.  My folks left it up to me and I am glad they did! This passion for music continued when I attended college at University of Minnesota, Duluth and majored in vocal music education. I sang with the University Singers, Chamber Singers and Concert Choir.  My sophomore year, I was involved in an Opera Workshop and was cast the role of Barbarina in Mozart's "Le Nozze Di Figaro".
Cut forward to 2007, I had returned to Minnesota after living in Seattle for nearly 8 years and I am attending church with my daughter.  After the service, a gentleman turns around in the pew and introduces himself as Tom Rossin.  He asks me who I am singing with.  I tell him I am currently not singing.  He tells me I should audition for his chamber choir.  I tell him I don't have time to sing with a choir, my parenting schedule wouldn't allow for it.  And he left me with something similar to these words, "It doesn't matter who you are singing with, but find somewhere to sing. You SHOULD be singing."  I continued to see Tom and Laurie in church during the 2008-09 season, and then my schedule changed.  I called Tom and left him a message that I would like to audition for his choir.  I was offered a seat in the soprano section and the rest, as they say, is history!
So many wonderful things have come from being a part of Exultate.  I met my husband Kevin, who was singing in the bass section at that first rehearsal.  I have made many lifelong friends.  I continue to push myself as a musician to be better.  I am thankful to be a part of a group where excellence is expected, as well as achieved.  I am forever grateful for Tom, who has such a clear vision of where he wants the choir to be.
I remember sitting in that first rehearsal thinking to myself "I am home."  After my family, singing is my passion.  At rehearsal, I am restored.  My soul is filled.
---
Musician's Notes
The Exultate Blog, meet Dodd Lamberton
Greetings from the Tenor section!
Greetings!  I'm Dodd Lamberton, a member of the Exultate tenor section.  Though most of my musical training was in piano, organ, and theory, I sang in school/church choirs from early childhood through graduate school: St. Peter's Lutheran (Edina), Minneapolis Southwest High, the University of Minnesota, and Indiana University.  After I graduated from Luther Seminary and our family moved east for first call, parish ministry and parenting combined to keep me away from regular choral singing.
Following 23 years of service with congregations in New York and Pennsylvania — and with our kids out and on their own — my wife and I moved back to the Twin Cities in spring of 2002. Setting a goal of finding a good choir, and having known Gabe Gabrielsen (Exultate's co-founder and long-time accompanist) for 30 years, I auditioned and joined the group that September.
When I'm not singing, I serve as one of the pastors at Mt. Carmel Lutheran Church in Northeast Minneapolis.  Over these 12 years, Exultate has been more than a good choir for me.  It is a weekly Sabbath-place where, for a few hours, I can lay down the responsibilities of ministry to sing great sacred music alongside skilled singers under the direction of a terrific director, Tom Rossin.  Exultate is more than music: laughter and relationship-building enhance our time together, and friendship with group members spills over into other arenas of life.
The music is beautiful, but for me our preparation and performance of Bach, Mozart, Brahms, Lauridsen, et al, is worship: sung prayer and praise to our loving God through the gift of live music.  What a privilege to be part of it all!
---
March 2014
Musician's Notes
The Exultate Blog, meet Michael Balzotti
Greetings from the Bass section!
Hello! I'm Michael Balzotti and I am part of a great group of guys who form the Bass section in Exultate.  Additionally, I am a student training as a tenor under Dr. Andrew Barrett, Assistant Conductor of Exultate.  During the day, I am the Associate Buyer for Paint and Coatings for Menards, Inc. in Eau Claire, WI. Besides performing with Exultate, I am a heavy metal musician and am also involved with Woodbury Community Theatre as a performer, producer, assistant director and lighting designer.  In addition, I sit on the Board of Directors of Merrill Community Arts Center.
My musical interest started at an early age. When I was 10 years old, I was one of many Boston-area boys who auditioned for the Boston Archdiocesan Choir School.  Little did I know at the time that the audition piece for all of us boys, "Row, Row, Row, Your Boat," would change my life forever.  After succeeding through the rest of the audition process (and a review of my grades), I was accepted into the school to perform with the Boston Boy Choir.  I went in kicking and screaming (figuratively of course) as I was leaving my friends and had to go to an all-boys school.  That decision was the best decision I ever made; music has been probably the largest and most important part of my life.  As a member of Boston Boy Choir, I was privileged to perform with the Boston Symphony Orchestra, the Boston Pops with John Williams, and sang at John F. Kennedy's gravesite in Arlington National Cemetery.
I continued singing in high school but more in the realm of musical theatre and several heavy metal bands.  The interest in theatre and music led this to be my educational focus at Salem State College in Massachusetts.  After moving back to my birthplace, Mankato, MN in 2003, I was fortunate enough to sing with the Concert Choir under the direction of Dr. David Dickau and the Maverick Men's Choir with Eric William Barnum, both incredible choral music composers.  In September 2012, after an 8-year hiatus from choral singing, I was hungry again.  I came upon Exultate.org and after an audition with Tom Rossin, I find myself in the fortunate position of singing with this wonderful group of outstanding musicians, including everyone in the choir and throughout the orchestra.
There are many things I absolutely love about Exultate.  The repertoire is extremely challenging.  Tom pushes all of us to do our personal best at all times and because of this, the work we do is very satisfying.  Moreover, the music we perform has meaning.  I'm not religious, but I can make the music and the words have meaning for me so that I can sing to the best of my abilities.  With that I fully understand Exultate's mission to move people through music.  Lastly, Tom is extremely approachable, and genuinely cares about each of us.  He doesn't just conduct us; he works alongside us to be the best at what we do.
---
February 2014
Musician's Notes
The Exultate Blog, meet Mallory Warner-Richter
Greetings from the Alto section!
I'm thrilled to be performing with Exultate again this year, my third season with the ensemble. We are in the midst of preparing for upcoming performances of J.S. Bach's St. John Passion – it's an exciting challenge!
About Me
I joined Exultate in the fall of 2011 after a two-year singing hiatus while I was in graduate school. It's good to be back on the risers! I grew up singing at home on my parents' farm in North Dakota, and was usually busy with music events from piano lessons, band, choir, community music groups, and camps. I was fortunate to sing with the a capella group Laudibus, Cantabile Women's Choir, Chapel Choir, and The Concordia Choir in Moorhead, MN while in college, and also with The Masterworks Chorale and Seraphim Singers while living in Boston, MA.
When not rehearsing with Exultate, I work at University of Minnesota doing education policy research and serve on the board of Young Education Professionals – Twin Cities. I live in Minneapolis with my husband and adorable daughter who keep me extremely busy, though filled with love.
Join us in March
One of the reasons why I enjoy performing with Exultate is the level of preparation that is put in by each musician in the orchestra and choir. It goes far beyond just learning the notes – it's learning about the history and context of the piece.
When we first began rehearsing for our upcoming performances of Bach's St. John Passion, I started on my own preparation by listening to a few recordings and soaking up notes from our conductor and resident Bach-scholar, Tom Rossin. While it's true that the passion story has intensity that would come through for any good composer, Bach's setting of St. John's version of the passion is particularly moving. It's like a Bach opera! The piece isn't technically an opera, but it carries the drama with lyrical arias, ruckus choruses, and solemn, contemplative chorales. It's easy to understand the weight of the passion events, for those in and outside of the tradition, thanks to Bach's signature scoring. I'm looking forward to joining our fine orchestra musicians in the coming weeks to put the piece all together. Please join us for the upcoming performances – you won't want to miss this piece!
---
The Exultate Blog, meet Rachel Farhi
Welcome to Musician's Notes, our very first blog entry!  Get the inside scoop about Exultate as Rachel shares her view from the soprano section.
Hello, my name is Rachel Farhi, and I am a first soprano (the highest voice part) in the Exultate Chamber Choir. This is my first full year in Exultate; I joined the group as a festival choir member last Spring for Mozart's Grand Mass in C Minor, and I am thrilled to join as a full member this Fall!
I grew up in Texas and moved to Minneapolis to attend law school at the University of Minnesota (currently in my second year of three). I started singing in choir in freshman year of high school. At that point, I had never played an instrument or had any music education. But by the time I started junior year, I was singing in the chorale, the madrigal choir, participating in regional solo and choral competitions, and eventually the school-wide jazz combo and musical (Into the Woods). Rehearsal was a great excuse to take a break from studying for AP tests.
As an English/Political Science major at the University of Houston, preparing to apply to law school, my friends were surprised how much time I was able to devote to singing. At different points during college, I was either in a women's chamber ensemble, a pop a cappella, mixed madrigal, musical theater revue groups, or in all of those at once.
During my senior year, I branched out into the non-university music community and auditioned into the Houston Cecilia Chamber Choir (first soprano). I had the privilege of performing Leonard Bernstein's MASS:A Theatre Piece for Singers, Players, and Dancers,Michael Bryson's A Time and Season (the world premier of that piece), Faure's Requiem (at Carnegie Hall!), and others. I loved the level of professionalism and passion in the group and miss the friends I made there all the time.
When I moved to Minnesota from Texas to start law school, I knew that music would be the present I would give to myself, my weekly escape from professional school (and the cold!). I decided to try taking  a year off from choir because I was worried that non-law extracurricular activities would take up too much time. That didn't last. After a boring Fall semester, I scrambled to find a choir that would allow me to start in the Spring, and Exultate thankfully provided that.
I am so excited to be singing some of the hardest music ever. Dr. Tom picks some of the hardest pieces out there, but I am grateful for the mental and physical challenge, and the inspiration and emotion that he brings to his direction.
Whether you've been an Exultate patron for 17+ years or the upcoming Christmas concert is your first, I hope you experience through listening the same zeal that we feel through singing this music. Happy Thanksgiving, and I hope you come and see us in December!