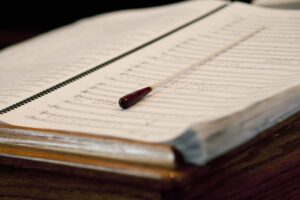 Exultate's 21st season season begins with the Fall concert series, From Fear to Dancing.
Join Exultate for a musical journey on the road of life from fear and trouble to comfort, joy and dancing – a cornucopia of choral gems both old and new.
It is all designed to Move your Soul!
Hear Johann Sebastian Bach's motet for double chorus, Fürchte dich nicht (Be Not Afraid).  It is a masterful example of the composer's emphasis on text painting and contrapuntal writing coupled with rare chromaticism. The text and music echo the human path of life through troubles to comfort.
Marvel at the masterful treatment of the text in Henry Purcell's setting of Psalm 3, Jehova, quam multi sunt hostes mei (Lord, how many are my foes). A true example of the composer's marriage of music and text, this motet, one of only two Latin motets of Purcell, brings the listener from fear of enemies all around us to comfort in faith.
Other Marvelous choral works that are sure to move your soul!
Donald Busarow – A Hymne to God the Father
René Clausen – The Road Not Taken
David Cobb – Carissimi diligamus
Edward Bairstow – I Sat Down Under His Shadow
Arthur Benjamin – He is the Lonely Greatness of the World
Bengt Hallberg – Domaredansen
Thomas Rossin – Goin' Home
We welcome guest concert pianist Katya Grineva with Exultate's principal cellist, Byron Duckwall in a special performance of Clause Debussy's Cello Sonata.
Advance sales are closed. Tickets are available for purchase at the door.
CONCERT VENUES
Saturday, October 15, 7:30 p.m.
St. Mary's Chapel – St. Paul Seminary
2260 Summit Avenue, St. Paul
Sunday, October 16, 4:00 p.m.
Lake Nokomis Lutheran Church
5011 South 31st Avenue, Minneapolis