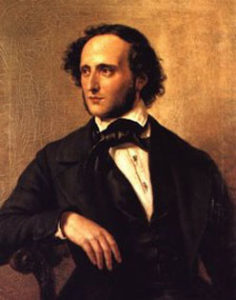 Exultate celebrates the joy of the Christmas Season with Felix Mendelsson's Gloria and other carols written for choir and orchestra. Hear glorious music in wonderful acoustic settings.
At age 13, Felix Mendelssohn created his choral/orchestral masterpiece – Gloria – the text of which the angels sang to the shepherds in the fields on the first Christmas. A remarkable accomplishment, this very early musical expression establishes Mendelssohn as a composer far ahead of others his age. You will be thrilled and moved by the maturity of the sounds and the musical expression of the texts. Wow!
The concert also presents other marvelous choral compositions by talented composers:

Concert Repertoire:
J. S. Bach – Komm, Jesu, Komm – motet for 2 choirs & instruments
Felix Mendelssohn – Gloria – for choir, soloists and orchestra
Edward Elgar – Holy Jesu – new work arranged from Enigma Variations – for choir
John Rutter – Shepherds' Noel; Silent Night; O Come, O Come Emmanuel – choir & orch.
Eric Whitacre – Lux Aurumque – for A Cappella choir
Mark Shepperd – Still, Still, Still – for choir and orchestra
Dan Forrest – O Come, All Ye Faithful – arranged for choir and orchestra
Trond Kverno – Ave Maris Stella – for A Cappella choir
Andrew Birling – A Christmas Carol – for A Cappella choir
Peter Wilhousky – Carol of the Bells – for A Cappella choir
Join us in celebrating the Season with favorite and traditional carols performed in unique arrangements for voices and instruments.
"Now that I have heard Exultate's concert, I feel the spirit of the Christmas Season."
– Exultate concertgoer
CONCERT VENUES
Saturday, December 9, 7:30 p.m.
Nativity of our Lord Catholic Church
1938 Stanford Avenue, St. Paul
Sunday, December 10, 4:00 p.m.
Lake Nokomis Lutheran Church
5011 31st Avenue South, Minneapolis