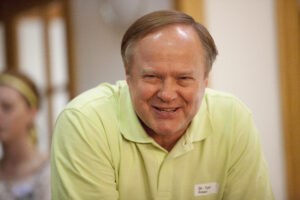 Music that moves the soul! That's the motto of Exultate and we truly mean it! Reaching the heart of the listener through great choral and instrumental music is Exultate's ultimate purpose and we have been doing just that since 1996. Our listeners continue to tell us that they are stirred within from the experience of being in the audience when we perform a captivating concerto or a deeply meaningful mass setting. Our goal is to bring music to your soul in a manner and depth that enriches your life.
The aesthetic experience, the art that occurs and the emotional response are what make sound become music. We fervently desire to move you through sound in rich and meaningful ways. We invite you to delve into the beauty of sound, the passion of glorious works of art, the enriching experience of hearing the essence of music. Music is the language of emotions and we strive to move beyond just sound into that language.
How do we do this? We work tirelessly and meticulously through many hours of rehearsals to bring singers and instrumentalists to complete mastery of the technical aspects of the compositions. Only then can we move across that barrier of technique and the elements of sound to make the language of emotions clear to you as well as inspiration to the performers. Whether it be an a cappella Renaissance motet or an intricate 21st century choral and instrumental work, our mission is always the same: To perform and foster the enjoyment of classical choral and instrumental music, moving the souls of this and future generations.
So, escape the mundane, delve into the beauty of sound, experience artistic emotions, enjoy a unique gift. We invite you to attend an Exultate concert this year! You will be pleased; you will be educated; you will be transformed; but most of all – you will be moved within your very soul to laughter, tears, joy, sorrow and exhilaration. You will "leap for joy" – the very definition of Exultate.
Exultate – Music that moves the soul! We hope to see you at our concerts.
Your conductor,
Thomas D. Rossin
Founder/Artistic Director