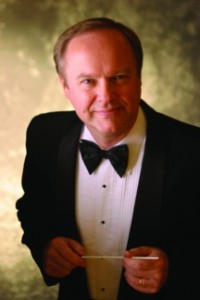 Thomas D. Rossin, in addition to being the founder and Artistic Director of Exultate, is a composer and church musician.
In the past, Dr. Rossin has been Associate Conductor and General Manager of the National Lutheran Choir, Director of Choral Activities and Chair of the Music Department at Augsburg College, Director of Choral Activities at St. Cloud State University and Director of Vocal Music at Brainerd High School.
He holds the Bachelor of Music Education (B.M.E.) degree from Valparaiso University, the Master of Fine Arts (M.F.A.) degree in choral conducting from the University of Minnesota, and the Doctor of Philosophy (Ph.D.) degree from the University of Minnesota. His doctoral dissertation topic was an analysis of the marginal notations made by Johann Sebastian Bach in his personal Bible.
An active leader in the field of choral-music education, Dr. Rossin is past President of the Minnesota chapter of the American Choral Directors Association (ACDA). He has choral compositions published by Concordia Publishing House and Kjos Music Press.
Read more about Dr. Rossin's research and Exultate's 2002 Bach festival.