Exultate is a chamber choir and orchestra founded in 1996 by Dr. Thomas D. Rossin, conductor, with Dr. Stephen Gabrielsen, accompanist. (Gabe died in April of 2013). Exultate is the Twin Cities' only professional choir with a self-contained orchestra. The group's normal size is about 45 singers and 22 instrumentalists.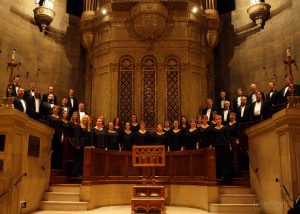 Once a year Exultate expands its ranks to become a larger-than-chamber "festival" choir and orchestra, performing and recording such major works for voices and instruments as A German Requiem by Brahms (sung in English), The Seven Last Words of Christ by Théodore Dubois (also in English), Mozart's Requiem and Grand Mass in C Minor, Francis Poulenc's Gloria, the Mass in B Minor, St. Matthew Passion and St. John Passion by Johann Sebastian Bach (sung in English) and the Requiems of Gabriel Fauré and John Rutter.
Exultate has produced twenty-five recordings so far – nine are Christmas albums with unique Christmas carol arrangements, many written especially for Exultate. The other sixteen recordings are choral masterworks and works for organ or piano. Please visit our recordings page to see more information on recordings available.